Vanishing of the Bees
Melissa Bees presents the film, 'Vanishing of the Bees' which last weekend won Best Documentary at the Idyllwild Film Festival and is receiving worldwide recognition. It's about the plight of the honeybee and the phenomenon known as CCD or Colony Collapse Disorder.  The film follows two commercial beekeeepers, David Hackenberg and Dave Mendes as they strive to keep their bees healthy and fulfill pollination contracts across the U.S. The film explores the struggles they face as the two friends plead their case on Capital Hill and travel across the Pacific Ocean in the quest to protect their honeybees.
Filming across the US, in Europe, Australia and Asia, this documentary examines the alarming disappearance of honeybees and the greater meaning it holds about the relationship between mankind and mother earth.  Honeybees pollinate over 60% of our food crops, and since no one wants to end up only eating gruel, this film is a must-see for everyone!
After the film there will be a sign-up for beginning beekeeping classes at TaborSpace, starting the following week.
What: Vanishing of the Bees (www.vanishingbees.com)
Where: TaborSpace 5441 SE Belmont St.
Portland, OR 97215
Phone: 503.238.3904
When: February 11th. Film @ 7, Doors open @6:30
Suggested Donation: $5
Sign up for beginning beekeeping classes after the show!
Hosted by: Melissa Elliott of Melissa Bees, the local go-to source for landscape design, contracting and consultation services for honeybee gardens.
Music by: Area54, Chill Electronic Music  www.area54.com
For more info go to: www.Melissabees.com,  elliottmelissa@mac.com or www.Taborspace.org and click on calendar of events.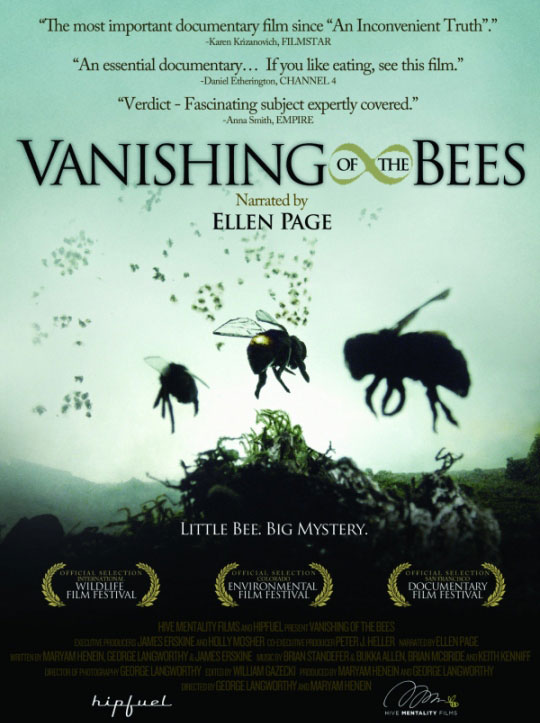 Leave a Reply