Talk to Your Neighbor About Pesticides and Herbicides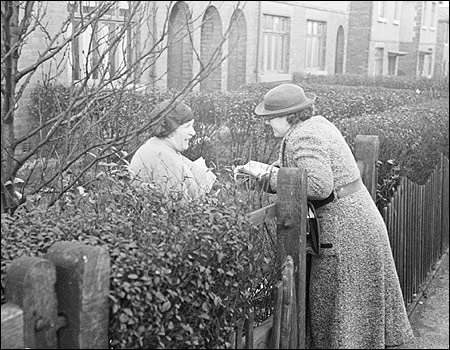 One of my earliest memories is of my mother talking with Helen, our next door neighbor, over the chain link fence that ran between our houses. They were quite fond of one another and enjoyed a quasi mother-daughter relationship; Helen was usually coiffed in a near-beehive of white hair and flowered dress and my mom in a bikini when they met at the fence. 'Plink…plink…plink' went the fence as my mother plucked at the morning glory entwining it, matching the staccato rhythms of their point-making over various subjects such as child rearing and the state of education.  In a crescendo of agreement, the plinking of the fence would grow louder and more fervent.  I could tell when mom was talking with Helen, from inside the house even, whenever I heard that fence going.
As a landscape designer and contractor for 22 years, I've had many conversations with neighbors over my client's fences, whether its concerning the location of a property line, what to do with an overgrown hedge, tree, or failing wall or fence between properties.  Sadly, what I witness most are neighbors who are afraid to talk with one other.  Sometimes it appears that I know the neighbors better than the neighbors do!  I encourage conversation between them and I have my mom to thank for setting the example.
Lots of people ask me what to do about the neighbors spraying pesticides and herbicides next door.  They're concerned for their health and for their bees. I ask myself that too, what's the best approach? I say the best approach is to say SOMETHING, anything that comes to you.  With bee losses on the rise (click this link or listen to the interview with a 3rd generation beekeeper who is getting out of the biz because of pesticides, below) we can't afford to not talk with our neighbors when we see them or a landscape company spraying.  The worst thing to do is to remain silent. Here are some ideas.
Download this pamphlet: The Xerces society put together this excellent brochure describing the effects of neonicitonoid pesticides on bees and which home and garden products are injurious to bees.
Offer a gift of honey:  Like the worker bees, you're only welcome to a hive if you're bearing gifts.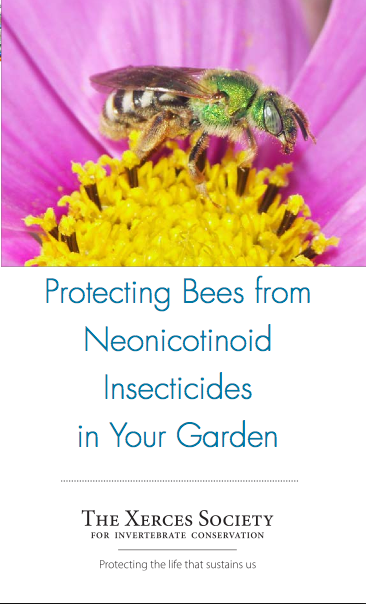 For starters you can ask and educate: 'I'm concerned for your health and my own. Can you tell me what it is you're spraying?'  'Commercial beekeepers are getting out of the biz in droves, they're losing too many hives.'  'Here's some info about products that are harmful to bees.' Education takes a long time, especially in the age of misinformation.  At least a seed will be planted.
Offer Alternatives: 'I know of some techniques/products that don't involve chemicals that I'm happy to show you.'
You can try positive reinforcement.  Whenever I see a person or a landscape company weeding or mulching I stop and get out to shake their hands and say "Great work!  Thanks for taking the time to do that and not spraying.  I did that with a landscape company down the block from me recently and it made the guys happy.
Pick up the phone and call.  One of my beekeeping students lives next to an orchard that is sprayed aerially.  She calls every time she hears a plane in the distance because the orchardist refuses to send a text to her of when he's spraying so she can close up her hives.
Write a letter. A client of mine, a hospice nurse, wrote this wonderful letter to her HOA, when we nearly gagged on the herbicide fumes coming from the other side of the fence where blackberries had been sprayed by a development company.  I'm really proud of her, because the HOA and development company responded positively and are making changes, thanks to her speaking up:
Thank you (name removed),
I really do not want chemicals around my home as I am very sensitive but more
important, it kills bees and harms all critters and the earth.  The landscape company can weed-whack it just as easy as spray them.   I have seen the effects of pesticides on my hospice patients. Bees are the canaries of this toxic world and we need to pay attention to them.
Toxic chemicals are not the answer and in this day and age.  I'm surprised they're still being used and especially here in a community like ours where
the actions of one person affect the rest.  It is important to be conscientious and aware of the environment and there are other great ways to deal with the weeds etc. and feel good about it.  Would it be possible for my gardener/landscaper, Melissa Elliott to meet with the board to discuss this?  She is an incredible
resource.  Or, should I talk to the landscape company that does the spraying directly?
This can be a really wonderful opportunity for this community to transition
to a higher level of awareness and health for all.
I do hope you will give this some serious thought,
Thank you so much!
I hope this helps you to get started talking with your neighbors about your concern with pesticides and herbicides!  I thank you, and the bees certainly thank you.
3rd Generation Commercial Beekeeper Calls it Quits
Leave a Reply